Coming home after a long day's work to a home you love feels great. Starting dinner in a beautifully designed kitchen for your family turns into fun or dare we say, a hobby? Kitchen remodeling not only enhances the space it reorganizes your life. Each day we start and stop in the kitchen from the early cup of coffee to the late night snack. Kitchen Design is completely customized to your daily routine, needs and style. Here is a breakdown of the latest Kitchen Styles you can incorporate into your Remodel.
1. Traditional – Timeless
No surprise this style for Kitchens is at the top of the list. Traditional is a timeless look which proves why many remodels are based off this style. Without a concern of being too 'trendy' this style suits many homes well. Incorporating a slight industrial twist to this style creates flare and interest. This kitchen will showcase painted or stained cabinetry, glass doors either clear or in a pattern, granite or marble countertops finished with a mosaic tile backsplash.
 2. Rustic Old World
Kitchen or Wet Bar this natural style show cases rich finishes with intricate detailing. Dark cherry stained cabinetry, wood or stone tile floor coverings, exotic granite countertops and rustic light fixtures shine on this look. Mixing an antique white painted island or wood hood creates visual interest while crown moulding sets the stage for a finished look.
 3. Modern – Simplified
These Kitchens display a simple color pallet of neutrals, flat cabinetry doors, linear glass backsplash and Stainless Steel appliances. This chic style is updated and de-cluttered from daily messes. Floor coverings are modest with little to no pattern to finish the Modern look.
4. Natural Craftsman
Similar to the Cottage Style this has a slight masculine approach with the use of stained Shaker Style cabinetry. Adding a hunter green, burgundy or even a painted white island shows off the rich wood tone of the perimeter cabinetry. Natural elements including slate work well as a backsplash or floor covering to pull the details together. Oil rubbed bronze cabinet hardware or lighting fixtures set the tone of the room. To add a modern twist to this style, keep the wall color light.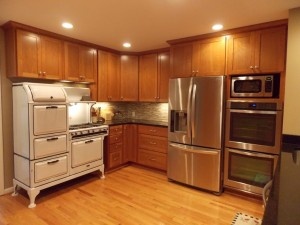 5. Cottage Living
Home Sweet Home, this style is soothing to the eye creating a relaxed and welcoming environment. Cottage style is a vintage feel with a new twist, from pale color hues to a rustic hand scraped wood floor or cabinetry. White bead board ceilings, painted cabinets in a pale hue, granite or quartz countertops and light tile backsplash present the cozy Cottage style.