When it comes to designing and building the cabinets and storage spaces in your home, along with aesthetically looking nice it needs to be designed for usability. Whether you goal is to store more or simply be more organized you need to invest in cabinets that help you in this.
You might be looking for a lazy susan or sink divider, being organized and saving space is important for your new home. To achieve this goal we love using Rev-A-Shelf products. Here are some of the coolest Rev-A-Shelf pieces that we would love to install in your home.
1.Pull-out waste containers.
An ugly trash bin that's always in the way can ruin the feel of your kitchen. It's not great looking and not exactly the cleanest thing either. But you need somewhere to throw away all of your trash. Pull-out trash bins offer several advantages. Being hidden in an otherwise unused cabinet. Multiple bins can even allow you to have a system to separate trash and recycling. Choose from one of the many Rev-A-Shelf's options.
2. Base Cabinet pull-outs.
Cabinet pull-outs easily allows you to reach your pots, pans, and lids when placed next to your stove. Place this system next to your refrigerator and have easy access to your canned goods or spices. Pull-out cabinets blend in seamlessly, along with allowing the most use for storage. Rev-A-Shelf's cabinet pull-outs give you easy access to what you need when you need it.
3. Pantry pull-outs.
Maximize your storage space with a pullout pantry. While being very practical, especially in the kitchen, They are easy to use and they make storage simple. Store all your go-to snacks right where you can easily get to them. While a pantry may just be where your children eat you out of house and home, it can also be a sensible stylish part of your kitchen.
4. Pull-out Lazy Susan.
Every blind corner base cabinet can become functional with Rev-A-Shelf's Half Moon Shelf System. The Half Moon Series includes standard and 90-degree hinge euro brackets and chrome-plated shaft and mounting brackets to help distribute the weight from the cabinet wall to the floor of the cabinet. Turning an unusable corner into a functional pantry cabinet is a win-win. Store all your spices, canned goods, and oils in your pullout lazy susan.
5. Complete drawer system.
A place for everything and everything in its place. Having a system to organize your utensils helps you know where what you need is at all times. Having a system with adjacent compartments to give ample storage space for large utensils, plastic bags, wraps and foils, and adding pre-assembled drawer boxes makes your life and drawers easier to deal with. Pick between the multiple Rev-A-Shelf systems to fill your specific needs.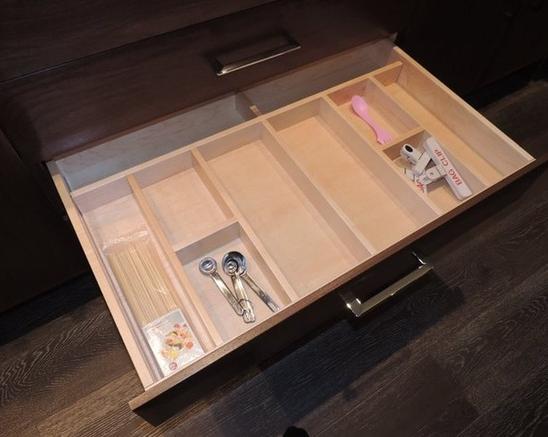 6. Drawer File System.
Organize recipes, coupons, bills and more with Rev-A-Shelf's File Drawer System. The file system features front and back frames that fasten to the drawer box for complete stability and a versatile T-Rod that creates divided storage for both legal and letter size folders. This durable file drawer system is designed for base 18 and base 21 cabinets but features metal supports that can be trimmed to fit almost any cabinet drawer. Never lose a bill again after installing a drawer file system.
7. Sink / base tip out tray.
Tip-out trays are a must-have for every kitchen and bathroom. Perfect for hiding sponges and scouring pads out of sight yet keeping them easily accessible. Rev-A-Shelf offers multiple versions to fit every need you may have. Never see a dirty sponge again with your sink tip out tray.
8. Sink/ base tray divider.
A no-brainer for organizing today's kitchens, Rev-A-Shelf tray dividers are a practical solution for storing baking sheets, serving dishes, cake pans and more. Use one or more to create custom storage space in either wall or base cabinets. The sturdy construction provides durability and style while the easy four-screw installation gets you organizing your cabinets in seconds.
9. Pull-out hampers.
Keep dirty clothes from piling on the floor with Rev-A-Shelf's different pullout hampers. Does your family just toss their clothes on the ground every day? Whether it's in your mudroom or your laundry room, pull-out hampers help keep your clothes organized and out of sight.
10. Mixer Appliance lift.
Never waste counter space again with large mixers and blenders with Rev-A-Shelf's appliance lift. With design flexibility in mind, the heavy-duty chrome mixer lift can be attached to any custom made shelf and therefore, will fit all cabinet sizes allowing a perfect match to your counter top or interior cabinet.
11. Under sink pull-out.
With Rev-A-Shelf's under sink caddy cleaning just got easier.  Now you can store multiple cleaning items in one place and carry them with you with the removable caddy. Saving you time with your cleaning and giving you more time for the important things in life.
Having an organized house has many benefits. It can reduce stress and anxiety. Homes that are cluttered or full of "unfinished projects" can make you depressed and fatigued. A disorganized life can take a toll on your personal relationships as well. Clutter can create tension and conflict in your relationships.
Keeping organized while making your home look great benefits multiple areas of your life. When designing your home make sure to think about the daily tasks that you will be doing. From your sink to your pantry, being organized can be easy with the products above.