Hosting family and friends for the holidays brings joy and creates lasting memories, but this time of year also tends to reveal certain flaws in your home (and maybe even some family members).
While we can't do anything about your crazy Uncle Joe, our home remodeling ideas create open spaces, get you organized and make entertaining one of life's simple pleasures.
Whether you live in a stately home on Meridian Street or make your abode in a cottage home or bungalow tucked inside the Meridian-Kessler neighborhood, Central Construction Group offers quality options for any home remodeling project, from whole-house remodels to more simple room additions.
Consider these top 2018 home remodeling trends as you plan your next improvement project:
Open Floor Plan Brings Family Together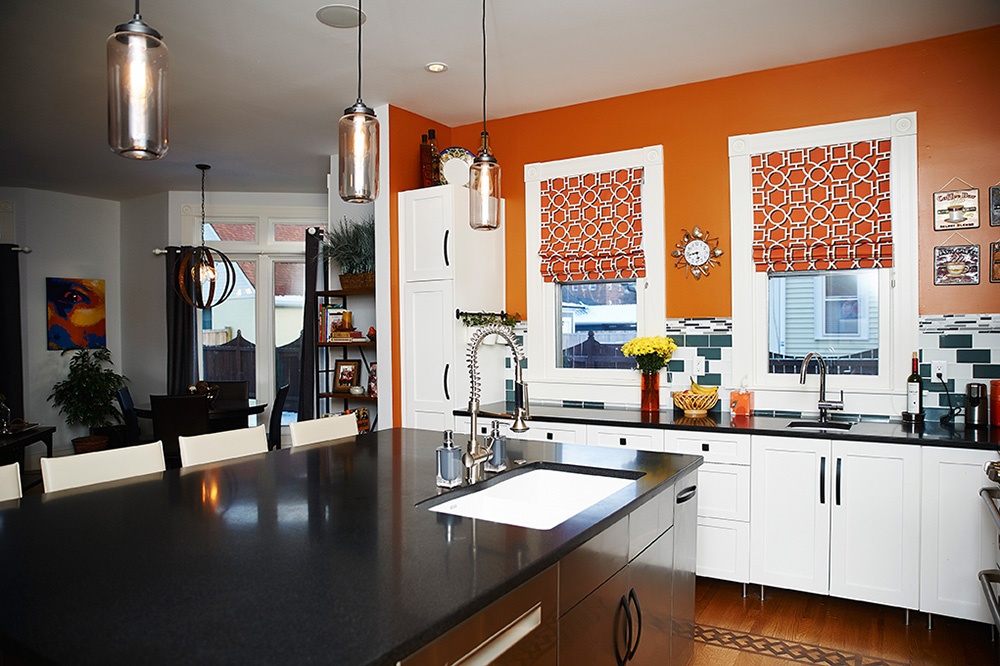 Building walls seems to be on everyone's mind these days, but home remodeling trends show homeowners are more interested in tearing down walls to create an open space where food prep, kids' homework, entertaining guests and just hanging out can be done from one great room.
If you live in an older, compartmentalized house, you may think it's impossible to create an open-concept floor plan without changing your home's footprint. While taking down a load-bearing wall or rerouting plumbing and electrical lines isn't simple, it can be done with the professional expertise and know-how from CCG, a licensed, bonded and fully insured, full-service residential general contractor.
Add space without changing your home's blueprint, increase natural light, improve traffic patterns and get more use out of every space in your home. Entire walls don't have to come down to create a feeling of open space. Consider a half wall or knee wall that opens sight lines between rooms, and build a breakfast nook, bookcase or extra storage into the wall to maximize use.
Kitchen Remodeling Trends
A kitchen remodel makes a huge impact on any home renovation and gives you a good return on your investment.
Trends in 2018 feature new and old ideas for the most-used room in the house. A sparkling and easy-to-maintain quartz countertop continues its reign as king in the kitchen, while adding accessible home automation features, such as smart dishwashers and no-touch faucets, in the kitchen is the new must-have for 2018.
Other popular trends for the kitchen include adding vibrant colors and intricate designs. This can be achieved by adding bold backsplash designs or two-tone wood cabinets, minimizing upper cabinetry or adding some with open shelving, creating one-of-a-kind ceiling treatments, installing appliance garages to conceal often-used kitchen gadgets, and so much more. Other fun features include touchless faucets, in-cabinet LED lighting, and extra-deep drawers with organizers.
Bathroom Remodeling Trends
While bathroom remodels don't produce as great of an ROI as a kitchen remodel, updating the bathroom can make your home feel more clean and modern — even if that extra bathroom is actually a dog-washing station in your laundry room.
Popular trends in bathroom remodeling include large, walk-in showers with frameless shower doors, hand-carved stone sinks and rose gold, brass and copper finishes for faucets and other hardware features.
White is out and color is in for bathrooms in 2018. Work with our interior designer to choose the right texture, color and pattern for the best bathroom tile design, whether it's in your new shower, on your walls or floors, or both.
Hire CCG to Design and Build Your Custom Space
The experts at CCG know home remodeling can be daunting for any homeowner, especially when it's a whole-house renovation or creating a dramatic change for open-concept living.
We'll identify your obstacles and work to create a solution that keeps everyone happy — even Uncle Joe. Contact us today, and let's get started.